All of my innovation projects work perfectly! No honest … trust me …
When I saw this cartoon over the weekend, I couldn't help but reflect on my past experience watching people with poor leadership skills try to manage the innovation process.  A telltale sign that someone doesn't get the innovation process is they try to over manage it.  They apply the same structure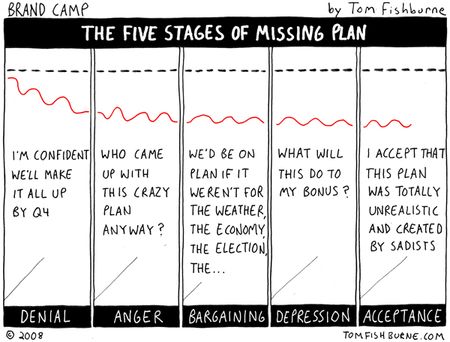 When I saw this cartoon over the weekend, I couldn't help but reflect on my past experience watching people with poor leadership skills try to manage the innovation process.  A telltale sign that someone doesn't get the innovation process is they try to over manage it.  They apply the same structure as they do to supply chain, manufacturing or sales.
When the results don't match what they promised to the senior executives, they go into CYA mode and start throwing people under the bus.  They never consider that it's their outdated leadership skills and lack of understanding about how innovations start and eventually make it to market.
What we need to do is provide a new kind of leadership training that prepares future leaders for the emerging creative economy.
The skills I think are important include:
Ability to define the BHAG (Big Harry Audacious Goal) that becomes the target for the team
Building a diverse team with a wide range of expertise and experience
Mentor rather than manage them
Have a keen sense of managing expectations outside of the innovation team
Take on a servant leadership approach as it's not about you – it's about the team
What other leadership skills do you think are important?
Phil McKinney Newsletter
Join the newsletter to receive the latest updates in your inbox.
Comments