Crossing the chasm has a new meaning in today's world
Geoffrey Moore, the author of "Crossing The Chasm" and I have had the opportunity to spend time together in the past including him agreeing to be interviewed for the podcast (one of the most popular podcast to-date).  If you're interested, here are links to the interview: Part 1 and Part 2. I came a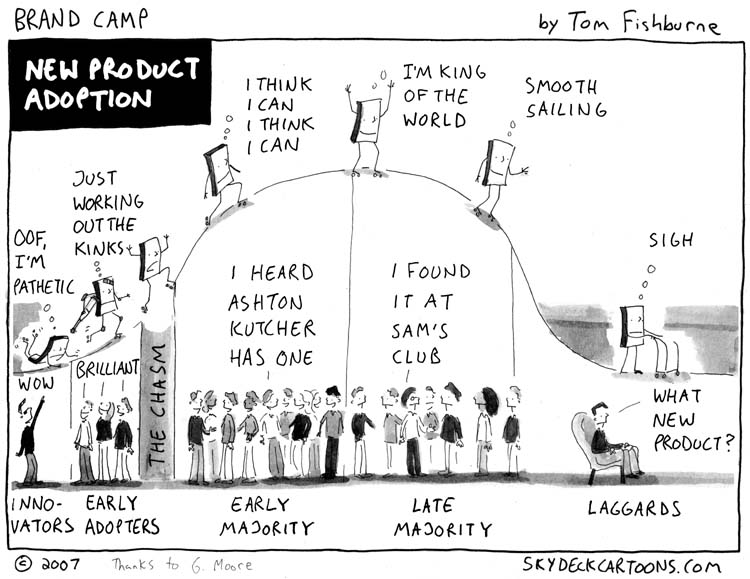 Geoffrey Moore, the author of "Crossing The Chasm" and I have had the opportunity to spend time together in the past including him agreeing to be interviewed for the podcast (one of the most popular podcast to-date).  If you're interested, here are links to the interview: Part 1 and Part 2.
I came across this cartoon of Geoffrey's famous diagram of "crossing the chasm" and couldn't resist sharing it.  Given the changes in the way innovations are adopted, the chart may be the same but what get's people to adopt is always on the move.  I love the "I heard Ashton Kutcher has one" tag.
Given that this cartoon was created in 2007, what do you think are the current motivators for customers to adopt new innovations?
Update: In July 2015, Geoffrey was a guest on the podcast "again", this time to talk about a new edition of "Crossing the Chasm" and specifically "What it takes to be an innovation leader". Check it out.
Phil McKinney Newsletter
Join the newsletter to receive the latest updates in your inbox.
Comments