Moderating The Plato@50 Innovations In Hardware Session at Computer History Museum (CHM)
I was recently requested by the Computer History Museum to moderate a session on Plato Hardware that was part of a two day event celebrating the 50 year aniversary of Plato.  If you asking "what is Plato?" then you are missing a key … Around 1959 Chalmers Sherwin, a physicist at the University of Il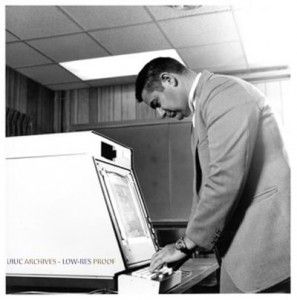 I was recently requested by the Computer History Museum to moderate a session on Plato Hardware that was part of a two day event celebrating the 50 year aniversary of Plato.  If you asking "what is Plato?" then you are missing a key …


Around 1959 Chalmers Sherwin, a physicist at the University of Illinois, suggested a computerised learning system to William Everett, the engineering college dean, who, in turn, recommended that Daniel Alpert, another physicist, convene a meeting about the matter with engineers, administrators, mathematicians, and psychologists. After weeks of meetings they were unable to suggest a single-design system, yet, before conceding failure, Alpert mentioned the matter to laboratory assistant Donald Bitzer, who had been thinking about the problem, suggesting he could build a demonstration system.
Bitzer, regarded as the Father of PLATO, recognized that in order to provide quality computer-based education, good graphics were critical (this at a time when 10 character per second teletypes were the norm). In 1960, the first system, PLATO I, operated on the local ILLIAC I computer. It included a television set for display and a special keyboard for navigating the system's function menus; in 1961, PLATO II, featured two users at once.Convinced of the value of the project, the PLATO system was re-designed, between 1963 and 1969; PLATO III allowed "anyone" to design new lesson modules using their TUTOR programming language, conceived in 1967 by biology graduate student Paul Tenczar. Built on a CDC 1604, given to them by William Norris, PLATO III could simultaneously run up to 20 lessons, and was used by a local facilities in Champaign-Urbana that could enter the system with their custom terminals.


Out of Plato, came technologies that we now take for granted such as:
… and keep in mind that this all came about in the late 1960's and early 1970's!
I myself was a user of Plato during my years at University of Illinois at Chicago.  In my case, my original dream was to be Architecture (I wanted to be the next Frank Lloyd Wright).  During my senior year in high school, I was selected to be part of an NSF program that would allow advanced high school students to also take college classes.  It was during these class that I first saw a computer (IBM 360) and the first time I saw a Plato terminal.  The impact –  I changed my major from Architecture to Computer Science …
I think its worked out for me ….
Below is the "Innovations in Hardware" session that I facilitated on behalf of the Computer History Museum.
Phil McKinney Newsletter
Join the newsletter to receive the latest updates in your inbox.
Comments