NY Times Article On New Device Concept
In this mornings New York Times, reporter Randall Stross published an article that covered my recent speech in Shanghai where I revealed an investigation into the concept of connected watches.  All in all a good article but it missed a key point.  The author seems to focus on "do we need watches" ra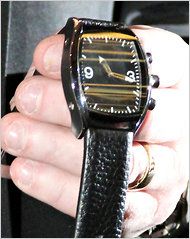 In this mornings New York Times, reporter Randall Stross published an article that covered my recent speech in Shanghai where I revealed an investigation into the concept of connected watches.  All in all a good article but it missed a key point.  The author seems to focus on "do we need watches" rather than the real crux of the concept being "is there a better way to have your family of devices work better together".  The core of the article does cover this – albeit briefly.


The MetaWatch would be "the mobile Wi-Fi hotspot on your wrist," Mr. McKinney said in the presentation.
During an interview this month, he told me that he gave a talk in 2006 about his conception of the "connected watch" of the future. At the time, wireless carriers were saying that all kinds of digital devices, including laptops, would join cellphones in having their own built-in wireless radios for connectivity.
"Why not take all the radios and aggregate them into one device?" he suggested then. That one device would be the wristwatch.It was an idea, nothing more. But last year, Mr. McKinney said, he received a call from Fossil. Executives there had heard his 2006 presentation, had been captivated by the vision, and had set about building two prototype watches — one with hands and another with digital numbers. It was the one with hands that he showed in Shanghai.


My concept was centered on a future where people would be carrying multiple devices and want all of them to be connected. Sound familiar?  The concept was based on the desire to have something with us all of the time that could act as a "personal wireless gateway" thus the watch.
The original concept from +5 years ago that triggered this prototype was covered by a number of publications at the time  (read more)
The NYT article does give a shout out to a "watch" that HP developed in 1977.  This device was so advanced in its miniaturization and manufacturing that when the device was no longer to be sold, the US Government asked HP to destroy the desgn documents, tools, parts, prototypes and any left over components.  Remember, this was 1977 and we were in the middle of the cold war.  The watch has turned into a collectors item.
Phil McKinney Newsletter
Join the newsletter to receive the latest updates in your inbox.
Comments