20 Years In To The Future
During my recent trip to Shanghai, I gave a press conference where I presented a vision and timeline of major shifts occurring over the next 20 years.  For those of you who are podcast listeners, you know that I'm not a big believer of random long range forcasting.  In this case, we've been careful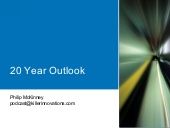 During my recent trip to Shanghai, I gave a press conference where I presented a vision and timeline of major shifts occurring over the next 20 years.  For those of you who are podcast listeners, you know that I'm not a big believer of random long range forcasting.  In this case, we've been careful to understand the trends and dependencies and how they impact the future.
You may not agree with what is presented.  That's fine.  The objective is to use this presentation as a catalyst for discussion.
Phil McKinney Newsletter
Join the newsletter to receive the latest updates in your inbox.
Comments