Exceptionally Normal
It is normal that no two people are exactly alike. Not even twins. So the word normal should not be confused with the word average. If you leave your fingerprints on something, you might as well leave your name and address since no two people have the same prints.  You hear music and see a […] http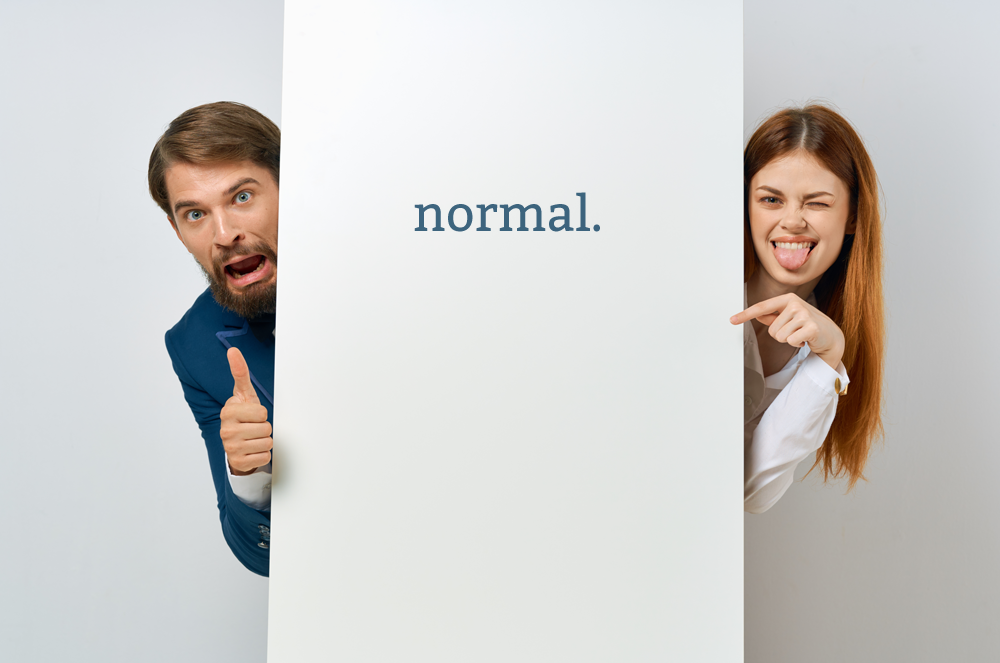 It is normal that no two people are exactly alike. Not even twins. So the word normal should not be confused with the word average. If you leave your fingerprints on something, you might as well leave your name and address since no two people have the same prints.
You hear music and see a sunrise differently from any other person. You might enjoy a movie that your spouse would do anything to avoid. You might like being in a crowd of friends while your spouse prefers an evening being just the two of you.
When you say, "I want my child to be normal," you don't mean average, and you shouldn't. What you mean is that you want your child to grow up with their own abilities, talents, likes, and dislikes. So to be normal is not to be average; it is to be different.
But for some reason, we are not comfortable showing our differences because we think society is expecting something we are not. We present one face to the world, as a rule, and another one to ourselves.
There are millions of people who feel inadequate just because they're not like what they think they see around themselves. They're not inadequate at all. It's just that they've never understood that we're not supposed to be like everyone else because no one is. We're supposed to be ourselves and realize that we are distinct individuals.
Face it, we are all quirky. Take a look at the great thought leaders: Socrates stood for hours in the snow, oblivious to the wind and cold, working out a philosophy problem; Churchill walked into the bedroom of the president of the United States with only a towel wrapped around his waist; Einstein could go a whole lifetime without giving a thought to whether or not he needed a haircut. Are these people normal or abnormal? They're normal. That is the way they do things — which is their normal.
I'm sure there are lots of people who are keeping themselves from something they'd like to be doing because none of their friends are doing it. The truth of the matter is that they would be normal to follow their own natural inclinations, since no two people are alike, and they are in fact being abnormal in copying their friends.
If you try to conform to the crowd, you're trying to act as people act on the surface. It isn't you.
What's normal for you, for me, is not easily discovered. It is not found by looking around at other people. It is found only by inward searching, by the knowledge of "who I am," not by watching "others." Each of us is outstanding in some way. Every person on earth has a superpower for something.
When we find it, life takes on a new meaning and excitement. When you committed the effort to develop your superpower, a lot of other people will wish they were like you. But they shouldn't. Being normal is being what you are as an individual.
This applies to everyone including those that society labels as "not normal" such as those on the autism spectrum. Rather than someone on the autism spectrum trying to act like people who society thinks of as "being normal", what is wrong with them being themselves and acting their normal?
We as a society have defined normal based on some artificial standard we see around ourselves. Society has never understood that we're not supposed to be like everyone else because no one is. We need to realize that each person is a distinct individual.
So what are the steps to being content with being ourselves?


Everybody Knows:
You can't be all things to all people.
You can't do all things at once.
You can't do all things equally well.
You can't do all things better than everyone else.
Your humanity is showing just like everyone else's.
So:
You have to find out who you are and be that.
You have to decide what comes first, and do that.
You have to discover your strengths, and use them.
You have to learn not to compete with others,
Because no one else is in the contest of "being you".
Then:
You will have learned to accept your own uniqueness.
You will have learned to set priorities and make decisions.
You will have learned to live with your limitations.
You will have learned to give yourself the respect that is due.
And you'll be a vital part of society.
Dare To Believe:
That you are a wonderful, unique person.
That you are a once-in-all-history event.
That it's more than a right, it's your duty, to be who you are.
That appearing normal is not a puzzle you need to solve.And you will be comfortable being your unique self and not someone else.


Each and one of us is a mystery and a miracle. What a shame it is to try to paint over the amazing you with a likeness of someone else.
To be normal is to be ourselves — and never to be average.
Podcast: Play in new window | Download | Embed
Subscribe: Apple Podcasts | Google Podcasts | RSS | More
Phil McKinney Newsletter
Join the newsletter to receive the latest updates in your inbox.
Comments