Ideas generated in the Killer Innovation workshop on education
On May 6th 2011, 11 people volunteered their time to participate in a Killer Innovations workshop to "Innovate Education".  The following video shows the "grouping exercise" for the ideas generated during the workshop. On YouTube |  Subscribe in iTunes The major groupings that emerged were: Teacher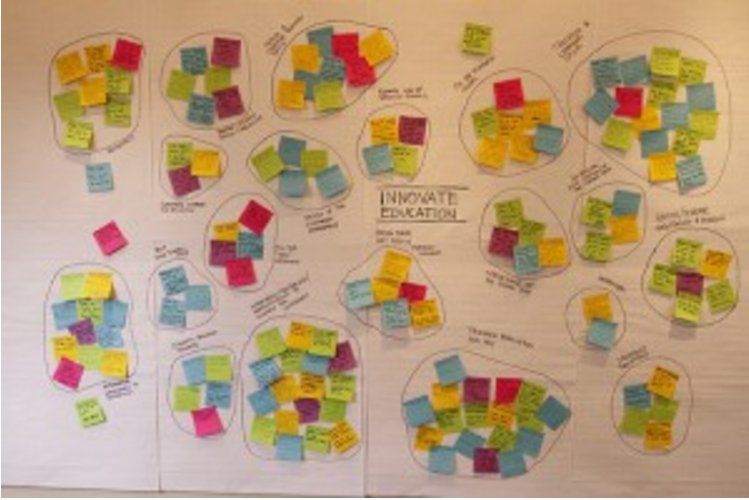 On May 6th 2011, 11 people volunteered their time to participate in a Killer Innovations workshop to "Innovate Education".  The following video shows the "grouping exercise" for the ideas generated during the workshop.
On YouTube |  Subscribe in iTunes
The major groupings that emerged were:
Teacher retirement based on % of student income
Re-emphasize 4H, Boy Scouts and Girl Scouts in the schools
Think global versus national or local about education
Stop focusing on best practices (copying what others do).  Its about "next" practice
Be willing to test alternative approaches to education
Make technology part of the education process
Teachers + Students design curriculum
Corporate support for education
Rethink preparing students for post high school when not going to college
Students teaching students
Work study/mentoring/apprenticeship to augment the classroom
Fix the "test" focused approach to education
Look at the design of the classroom environment (lighting, work surfaces, etc)
Teach critical and creative thinking skills across all subjects
Expand the use of specialty schools (magnet, science/technology, art, etc)
Bring back art, music and foreign language
Recreate the teacher evaluation and pay system
Redesign the structure of the school day/year
Fix the funding model (e.g. change Prop 13 in California)
Go Digital – Education version of the electronic medical record (e.g. full transparency for parents)
Change the homework (e.g . too much, busy work rather than teaching)
Dropout prevention
Admin/teach mentoring and rotation to avoid the us versus them
Match teaching and learning styles (e.g. verbal, visual, tactical, etc)
A high-res version of the grouping diagram along with the closeup's of the individual sections is available on Flickr
What are the top 3 ideas you could get behind?
Phil McKinney Newsletter
Join the newsletter to receive the latest updates in your inbox.
Comments